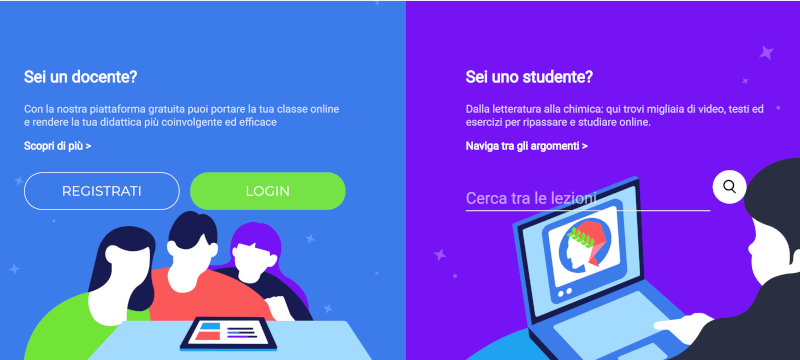 Weschool
WESCHOOL is a digital learning platform that was created as a platform for the Flipped Classroom. With WESCHOOL it is possible to interact between students and the teachers through a wall and create digital lessons in collaboration with the students themselves. Interactive boards makes possible to aggregate materials of different kinds (content from social networks, photos, pdfs, presentations, etc.) to the existing lessons; check the students' learning level through the test section, which provides numerous verification and reporting tools in real time; track the activities carried out through a register; carry out lessons remotely through a dedicated virtual area.
The platform also offers online courses for teachers.
Weschool is available only in Italian.
Examples of application:
WESCHOOL can be used in the classroom and it is recommended for applying the flipped classroom methodology where students become the protagonists of their own learning by carrying out research and finding useful materials on the target subject.
Area: LMS
Interaction: YES
Type of Interaction: asynchronous
Language: IT
Available for free: YES
Suggested for working with: entire class, individual students
Related Tools:
E-Twinning, Canvas,

Moodle,

Khan Academy,

Edmodo

,

Blackboard

, Schoology,

Nearpod

,

Wakelet

, Google Classroom, Treccani Scuola