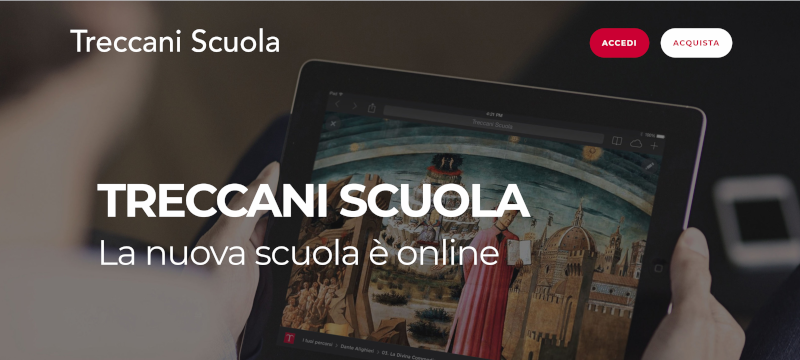 Treccani Scuola
Treccani Scuola is the learning tool produced by Istituto Treccani (Italian Institute founded in 1925) addressed to schools. The platform offers thousands of learning contents edited by the Institute, together with a wide range of exercises and tests to measure the student's learning level. Teachers have the opportunity to create or personlise the lessons with contents, according to the students' needs, with external links and further exercieses.
Short presentation (IT) https://youtu.be/MJqUIdMIxac
Treccani scuola is available only in Italian.
Treccani scuola does not have a free version.
Examples of application:
Thanks to the available high quality content, Treccani Scuola can be used in class for the entire school year. Personalisation options can be useful to shape the lessons to the students' needs.
Area: LMS
Interaction: YES
Type of Interaction: synchronous, asynchronous
Language: IT
Available for free: NO
Suggested for working with: entire class, individual students
Related Tools:
E-Twinning, Canvas,

Moodle

,

Khan Academy,

Edmodo

,

Blackboard

, Schoology,

Nearpod

,

Wakelet

, Google Classroom, Weschool