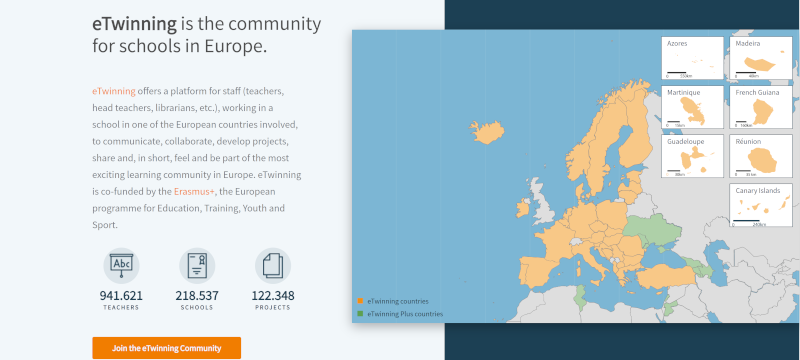 E-Twinning
E-Twinning is an online platform designed by the European Commission and aimed at creating a community where teachers from all the European countries can work toghether to innovate the education provision. The portal offers a wide range of very intercative activities:
– Partner search to find like-minded teachers from other countries to collaborate with
– Creation of educational projects for all ages of learners
– Implementation of projects through the "twinspace" which offers the possibility of real time online cooperation
– Participation in online training events for teachers led by experts in different areas.
The most successful collaboration projects carried on E-Twinning are awared every year at national and European level. Since it can take some time to get familiar with all the possibility made available by E-Twinning, initial users can take this online course (https://stm.etwinning.net/en/pub/index.htm).
Area: LMS
Interaction: YES
Type of Interaction: synchronous
Language: multiple languages
Available for free: YES
Suggested for working with: entire class, groups of students, teachers
Related Tools:
Canvas, Moodle, Khan Academy, Edmodo,

Blackboard

, Schoology, Nearpod, Wakelet, Google Classroom, Weschool,

Treccani Scuola