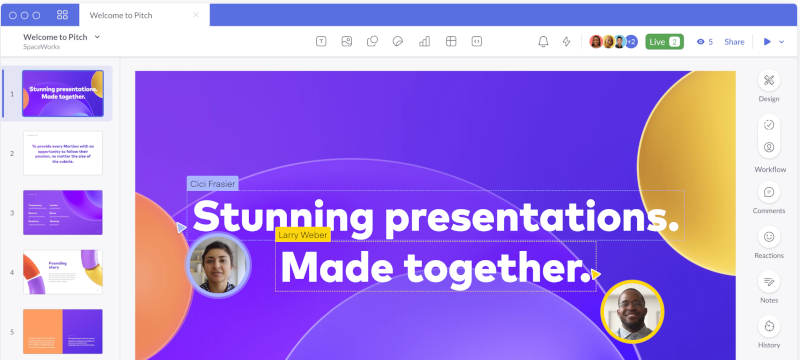 Pitch
Pitch is a website to create presentations in the form of slides. It is cloud based and particularly indicated to work in teams of all sizes in real-time or asynchronously and across any device. it is also possible to assign tasks to people, and monitor the advancement status of creating a presentation.
Though Pitch it is possible to set up branded templates for the presentation or choose among a large collectio of templates in a gallery. The innovative features of Pitch help the user to save time while editing a presentation.
This tool also integrates videocalls to facilitate the collaboration with other people. Pitch makes possible to create immersive presentation with the integration of videos or rich media and interactive embeds.
Product tour: https://pitch.com/product-tour
Examples of application:
Pitch can be used by teacher to create presentations different from the usual PowerPoint. The highly collaborative setting of Pitch is ideal to create content together with other teachers.
Homeworks can be done by students on Pitch as well. This tool can also be used in class to make single student or working groups present the results of assignments.