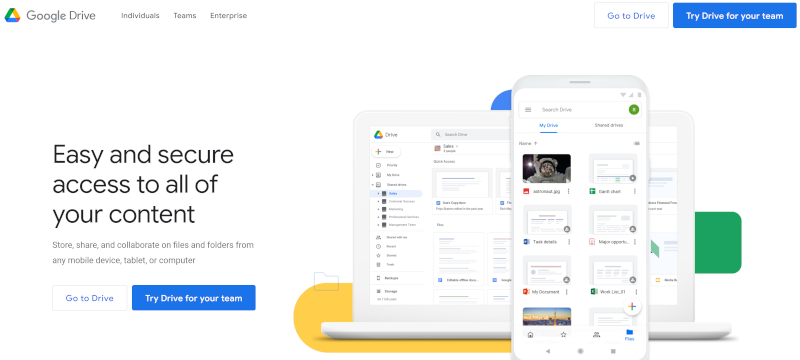 Google Drive
Google Drive is a cloud-based platform that allows user to store files online and access them anywhere from any smartphone, tablet, or computer.
You can upload and save on Google Drive all sorts of files like, documents, photos, audio, and videos to free up space on your device and use them anywhere, anytime. The free version of Google Drive let users store up to 15 gigabites of data. However the most distintive feature of Google Drive are its collaborative working apps (Docs, Sheets, Slides, Forms, Drawing, Sites) which gives the user the possibility of creating all sorts of documents and share them with colleagues or other users with just a link. Through the collaborative mode, users can work together on the same document in real time, or make comments/suggestions.
Examples of application:
Google Drive is used in education to create content for students and is integrated in Google Classroom. It can be used to prepare essays, math excercises, presentations, and much more.
Thanks to real time collaboration on Google Drive documents it is possbile to create sycronous learning activities with the entire class or groups of students.
Area: content creation
Interaction: YES
Type of Interaction: synchronous, asynchronous
Language: multiple languages
Available for free: YES
Suggested for working with: entire class, groups of students
Related Tools:

Google Classroom

, Google Forms