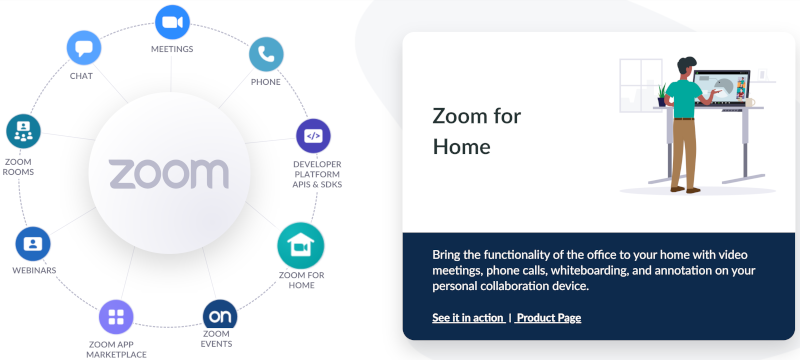 Zoom
Zoom is a videoconferencing software that runs on any devices (PC, tablet and smartphone). Thanks to Zoom it is possible to have online videocalls with multiple participants. The free version of Zoom you can host up to 100 participants and group meetings (in online breakout rooms) for up to 40 minutes. Hosts can share their screen during the presentations. One of the main feature of zoom is the possibility to arrange breakout rooms directly from a control panel managed by the host of the conference. Payment versions of this tool offer the possibility to have extended duration of breakout rooms, live streaming on social media and the option to record a conference.
In order to use Zoom on a computer it is necessary to download a plugin from the website and install it.
Examples of application:
Zoom is used to have online classes. Students can log in a video class using the link provided by the teacher/host. The feature provided by Zoom of splitting participants in time-bound breakeout rooms makes easier to have working groups of learners.
Area: online collaboration
Interaction: YES
Type of Interaction: synchronous
Language: multiple languages
Available for free: YES (with limitations)
Suggested for working with: entire class, groups of students, up to 100 participants with free version
Related Tools:
Gotowebinar, Google Meet, Microsoft Teams