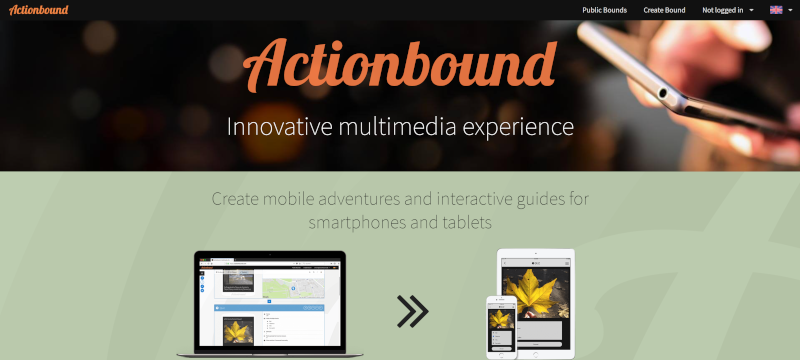 Action bound
Actionbound is an app that can be downloaded on any device for playing digitally interactive scavenger hunts to lead the learner on a path of discovery. This app quite literally augments our reality by enhancing peoples' real-life interaction whilst using their smartphones and tablets. Ti let users to take full advantage of the huge potential of gamification thanks to the extensive game elements and tools like GPS locations, directions, maps, compass, pictures, videos, quizzes, missions, tournaments, QR codes and much more to create fun and exciting mobile app-based adventures.
Examples of application:
Teachers can combine a variety of different activities mixing quizzes, tasks, media contents, GPS-coordinates, QR-Codes, and many more. The app is suitable for all subjects, it's perfect for field trips, but is also ideal for working on projects in autonomy. Teachers can use Actionbound for example to create a customized tour of the city or town for your students in which they are asked to take pictures and document what they have learned for example about history.
Examples of other use include botanical tours (for science, biology etc.), literature tours, or mathematical journeys of discovery.
Actionbound can also be used to assign mission/tasks to students which not include to go out, such as making a video presentation of themselves as an ice braking activity through the app.
Students can also create actionbounds which the other pupils can then play.
Area: gamification
Interaction: YES
Type of Interaction: asynchronous
Language: EN, DE
Available for free: YES (with limitations)
Suggested for working with: entire class, groups of students, individual students
Related Tools:

Kahoot!

, Blendspace