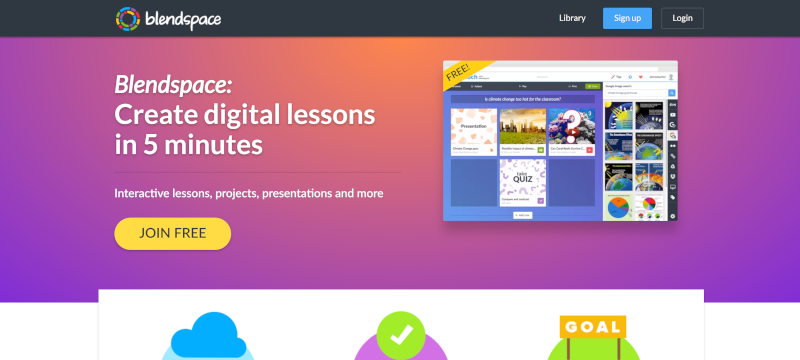 Blendspace
Blendspace is a digital learning platform helping teachers to create lessons in a very easy and quick way: Blendspace's search box, connected to a rich list of sources (google, youtube, TES, etc.), allows teachers to drag videos and other relevant materials and drop them in the space for lessons creation. It is possible to add texts and quizzes to monitor students' understanding. Blendspace has also its own library with a huge amount of lessons available in English language, covering different subjects (tecnology, math, art, social studies, etc.). Some useful resources on teachers' professional development are also available. Blendspace follows the social network dynamics, allowing users to interact, to comment and like other members posts.
Presentation of Blendspace: https://www.youtube.com/watch?v=vo1a86L_ykk&feature=emb_logo
Examples of application:
Blendspace can also be a tool to implement flipped classroom methodology: posting lessons on the platform will allow to save the time spent by teachers in classroom (also virtual classrooms) for tradititional lessons and lectures and to invest it in other activities, such as interactions, group works, or individual tasks.
In practice, Blendspace can be used to create teaching modules that students can study independently (asynchronous lesson) at home to explore a topic covered in class. Alternatively, students can take the training module online in preparation for the upcoming lesson.
Blendspace is well suited for creating classes for students who are absent because of learning mobility projects abroad or cannot attend classes due to personal issues.
Area: interactive games and activities
Interaction: YES
Type of Interaction: synchronous, asynchronous
Language: EN
Available for free: YES
Suggested for working with: entire class, groups of students, individual students
Related Tools:
Nearpod