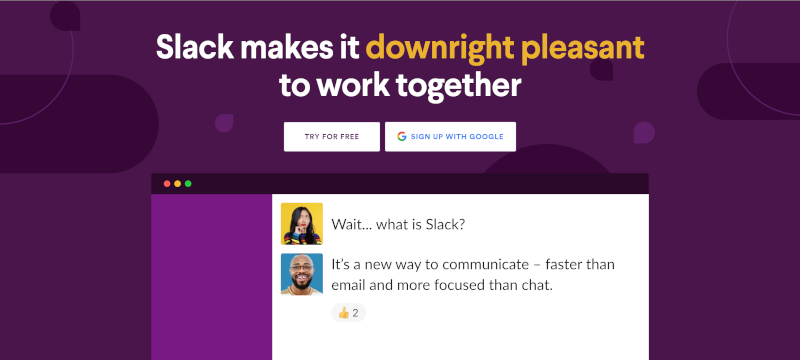 Slack
Slack is a channel-based messaging platform. With Slack, people can work together more effectively, exchange information or documents without using emails.
In Slack, team members send messages and share files in channels. You can create channels for team work, projects, subjects, or anything else that's relevant to your organisation. You can make channels private for conversations that shouldn't be open to all members, or you can use shared channels to collaborate with external organisations from your own "workspace". You can start a voice or video call with any other members of your workspace right from Slack. Share your screen to show your teammates exactly what you see on your computer, you can even draw on your screen while you're screen sharing. Slack has a free version with some limitations. In particular, with the free plan old messages are automatically deleted.
Examples of application:
Slack can be used to communicate with students to organize lessons, homework, or study groups. The free version of Slack gives the possibility of having only 1 to 1 videocalls. and exchange messages or docuemnts and media with the entire class or just groups of students. It is possilbe to create different messaging channels according to the needs of the class.
Since Slack comes with an app version, students can use videocalls from their mobiles to document the work done on a project, or virtual study visits can be set up.
Area: online collaboration
Interaction: YES
Type of Interaction: synchronous, asynchronous
Language: multiple languages
Available for free: YES (with limitations)
Suggested for working with: entire class, groups of students, individual students, only video calls are limited to 2 participants
Related Tools:
Discord
,
Microsoft Teams