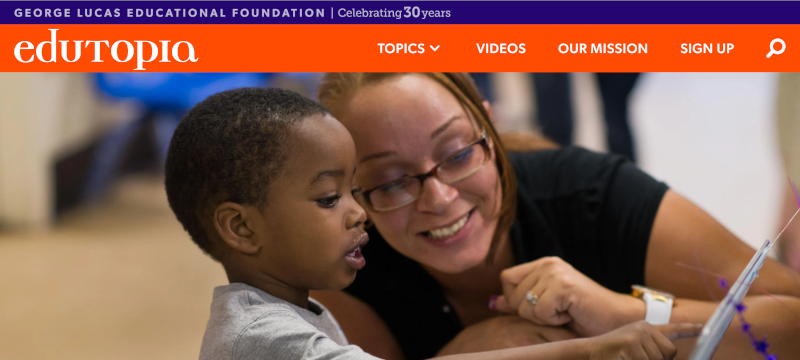 EDUTOPIA
EDUTOPIA is a website published by the George Lucas Educational Foundation (GLEF), focusing on six core learning strategies: "Comprehensive Assessment, Integrated Studies, Project-Based Learning, Social & Emotional Learning, Teacher Development and Technology Integration". The main activity of EDUTOPIA is the production of "School that Works", that consists in a publication of evidence-based and successful practices in K-12 education (from primary to high school) adopted by schools and teachers in order to change the approach, innovate teaching methodologies, improve students learning process. Resources are available to parents and families of students, for their active involvement and participation to their learning process.
Presentation: https://www.edutopia.org/about
Examples of application:
Teachers can access EDUTOPIA content and use the good practices to innovate their learning, or integrate their teaching with innovative, interactive and creative approach towards their students. For example they can implement project-based learning methodology to make students more motivated, pro-active and self confident.
Area: educational resources
Interaction: NO
Language: EN
Available for free: YES
Suggested for working with: entire class, groups of students, individual students, families
Related Tools:
Brainpop